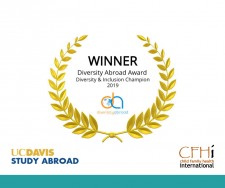 Child Family Health International in Partnership With UC Davis Study Abroad Named Diversity and Inclusion Champion by Diversity Abroad
SAN FRANCISCO, February 1, 2019 (Newswire.com) - Child Family Health International (CFHI), a nonprofit organization offering community-based global health programs with a transformative and ethical approach, has accepted the 2019 award for Excellence in Diversity & Inclusion in International Education, presented by Diversity Abroad. The award, which was earned in partnership with the University of California, Davis' Study Abroad program, is for the Institutional/Organizational Award: Diversity & Inclusion Champion (Overall).
The prestigious award recognizes Latinx Health Internship in Oaxaca, Mexico, a joint program by CFHI and UC Davis. The program allows students to participate in 180 hours of clinical rotations and cultural immersion while completing UC Davis courses covering U.S.-Mexico health issues.
"The strengths and resources unique to each organization weave together effortlessly, creating an environment that fosters self-awareness and an in-depth understanding of healthcare competencies for diverse populations," says Dr. Jessica Evert, CFHI executive director. "CFHI's medical directors in Mexico offer their insight in cultural competency and professional connections, which allow them to appoint local guest speakers whose expertise in specialized topics such as nutrition and traditional medicine broadens each student's view of healthcare."
"The Latinx Health Internship provides transformative experiences for participants. Students learn about global health and the importance of an intersectional analysis of providers and healthcare recipients. As they shadow doctors, nurses and traditional healers, they learn about the varied health professions and practices which, in turn, helps them define future career goals. At the same time, students are gaining cultural humility and enriching their cultural and language skills," comments UC Davis faculty and Program Director Dr. Yvette Flores. UC Davis' Chicanx Studies courses abroad allow participants to develop greater Spanish fluency and clear career goals. UC Davis professors and CFHI speakers leading the various facets of this program provide invaluable expertise that results in greater cultural competency and medical ethics as well as a holistic approach to healthcare overall.
This program has increasingly attracted Chicanx students and has provided a space to solidify their roles as healthcare providers as well as focus on learning how to best support patients of indigenous backgrounds. In alignment with CFHI's mission statement "let the world change you," students have observed how this program has impacted them. Program participant Alejandra Villagomez reflects, "The Latino/a Health Internship Program in Oaxaca was the highlight of my undergraduate career. Not only because it gave me an opportunity to go to the land of my ancestors for the first time but also because it solidified my desire to become a physician."
"This program is unique in how extensively it serves traditionally underserved and underrepresented students," says Dr. Evert. "I am unaware of a program that so uniquely speaks directly to the participating students in a way that is meaningfully and directly informative of their current identities and professional career goals."
Program directors from the U.S. and Mexico will travel to accept this award at this year's Diversity Abroad conference in Boston.
Founded in 1992, CFHI (http://www.cfhi.org) is a non-government organization (NGO) operating at the grassroots level to provide transformative global health education experiences and community empowerment in underserved communities around the world. CFHI offers 30-plus global health education programs designed to broaden students' perspectives about global health - as well as a variety of community health initiatives and projects - in developing countries including Bolivia, Ecuador, India, Argentina, Mexico, Uganda, South Africa, Ghana and the Philippines. More than 8,000 students have participated in CFHI programs to date. CFHI has been granted Special Consultative Status with the Economic and Social Council of the United Nations (ECOSOC).
Source: Child Family Health International
Share: