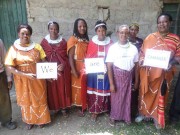 San Francisco-Based CFHI Opens New Community-Based Orphan Care & Health Program in Arusha, Tanzania
San Francisco, CA, January 23, 2016 (Newswire.com) - ​​Child Family Health International (CFHI), a non-profit organization supporting international education programs and community health initiatives worldwide, today announced its expansion into Tanzania. In collaboration with local community leaders, CFHI will offer an innovative new program that provides students a window into the healthcare system of Tanzania, as well as an opportunity to actively support a non-profit development organization providing an ethical, sustainable alternative to orphanage volunteering. 
The "Community-Based Orphan Care & Health" program is based in the northern Tanzanian city of Arusha, well known as a jumping off point for safaris to Serengeti, Kilimanjaro, and other national parks. Here, CFHI global health scholars will take part in clinical rotations at regional hospitals and rural health centers and learn about local government efforts to improve the health of rural, underserved populations.
Leading the program on-site is CFHI Local Coordinator, Aloyce Koillah, and CFHI Program Director, Father Faustine Mosha. Father Mosha is the Co-Founder and Executive Director of the Children Growth and Development Center (CGD). This grassroots organization is unique in that it shifts away from the traditional approach of building an orphanage and instead encourages the community to create a support network to provide child-centric orphan care in families and communities. The Center's work includes workshops in child psychology, HIV/AIDS education, first aid, small business management, modern agricultural techniques, nutrition, water sanitation and hygiene, and safe delivery, while simultaneously creating a social caregiver network and amplifying women's voices.
Since November 2015, CFHI has served as a member of the Better Volunteering, Better Care (BVBC) global working group, an inter-agency initiative founded by Better Care Network and Save the Children UK that promotes ethical models of volunteering. CFHI is proud to serve alongside other non-profit leaders like Hope and Homes for Children, Friends International, and Next Generation Nepal advocating against short-term service in orphanages and other residential care facilities. 
To learn more about this program, visit: https://www.cfhi.org/community-based-orphan-care-health. 
###
Founded in 1992, CFHI (http://www.cfhi.org) is a non-governmental organization (NGO) operating at the grassroots level to provide transformative global health education experiences and community empowerment in underserved communities around the world. CFHI offers 30+ Global Health Education Programs designed to broaden students' perspectives about global health - as well as a variety of community health initiatives and projects - in developing countries including Bolivia, Ecuador, India, Argentina, Mexico, Uganda, South Africa, Ghana, Tanzania, and the Philippines. More than 8,000 students have participated in CFHI programs to date. CFHI has been granted Special Consultative Status with the Economic and Social Council of the United Nations (ECOSOC).
Share: