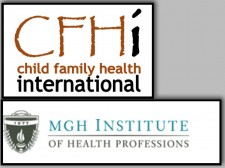 CFHI collaborates with MGH Institute of Health Professions in Boston to expand elective global health opportunities for students in nursing, occupational therapy, physical therapy, physician assistant studies, and speech-language pathology
San Francisco, CA, September 9, 2016 (Newswire.com) - ​​​Child Family Health International (CFHI), a non-profit organization that has provided transformative global health experiences to over 8,000 participants since 1992, has unveiled a new collaboration with the Boston graduate school MGH Institute of Health Professions.
The new collaboration allows the MGH Institute –the only degree-granting affiliate of Partners HealthCare, New England's largest health provider—to expand its global learning opportunities for the health school's more than 1,500 health care graduate students.
"CFHI is thrilled and honored to launch this collaboration with the MGH Institute of Health Professions," said Robin Young, assistant director in charge of CFHI's programs in Africa and Asia. "We look forward to connecting these burgeoning health professionals to the work that our global partners are doing around the world to increase access to health care and address the most pressing health problems that their communities face."
 Bennett Shake, a third-year student in the MGH Institute's Doctor of Physical Therapy program, currently is spending a month in Mysore and Sargur Village in southwest India, working in a rehabilitation center focused on children with disabilities in a rural hospital, and doing rural health outreach and education campaigns for the largely indigenous farming population in the region. 
 "CFHI did an excellent job of preparing me for the experience. Their focus as an organization is Asset-Based Community Development which seeks to identify what resources the community already has rather than implementing a more "hit-and-run" approach which can often lead to dependence and lacks sustainability. Having been on several trips abroad including southern Africa and Central America, I am very impressed with the integrity and thoughtfulness of their approach to partnering with communities which have a lack of access to medical care."
The MGH Institute expects students in its other programs—nursing, occupational therapy, physical therapy, and physician assistant studies—will participate with CFHI in the coming semesters.
"Expanding global learning opportunities helps meets the MGH Institute's mission to prepare leaders who shape the future of health care," said Peter Cahn, PhD, Associate Provost for Academic Affairs. "By participating in CFHI's programs, our students will gain valuable skills for working in low-resource environments with diverse populations that will translate into any clinical setting."
###
Founded in 1992, CFHI (http://www.cfhi.org) is a non-governmental organization (NGO) operating at the grassroots level to provide transformative global health education experiences and community empowerment in underserved communities around the world. CFHI offers 30+ Global Health Education Programs designed to broaden students' perspectives about global health - as well as a variety of community health initiatives and projects - in developing countries including Bolivia, Ecuador, India, Argentina, Mexico, Uganda, South Africa, Ghana, Tanzania, and the Philippines. More than 8,000 students have participated in CFHI programs to date. CFHI has been granted Special Consultative Status with the Economic and Social Council of the United Nations (ECOSOC).
 MGH Institute of Health Professions in Boston is an innovative and interprofessional graduate school with post-baccalaureate, direct entry-level master's and doctorate, and post-professional programs in nursing, occupational therapy, physical therapy, physician assistant studies, speech-language pathology, health professions education, and a PhD in rehabilitation sciences. The MGH Institute offers its more than 1,500 students unparalleled opportunities to learn and work alongside expert practitioners in a variety of hospital, clinical, community, and educational settings. The college, which has graduated almost 6,700 students, is fully accredited by the New England Association of Schools and Colleges (NEASC). Several programs are highly ranked by U.S. News & World Report. The school for the past three years has been named to the Honor Roll in The Chronicle of Higher Education's "Great College to Work For" annual survey; the IHP has been named a Great College for seven consecutive years.
Contacts:
CFHI: Keaton Andreas |keaton@cfhi.org| 415-957-9000 x6
MGH Institute of Health Professions: John Shaw | jshaw@Mghihp.edu | 617-726-4276
Source: CFHI and MGHIHP
Share: