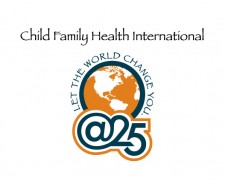 A scholarship made possible by Dr. Thomas Hall, respected UCSF lecturer, has been awarded to two young leaders from Belmont University and Kansas State University
San Francisco, California, May 10, 2017 (Newswire.com) - Child Family Health International, an NGO in special consultative status with the UN, has found its first awardees of the CFHI Thomas Hall Scholars Program. Dr. Thomas Hall is a respected leader in Global Health, having worked over the past 60+ years toward improving the health of low-resource countries. Hall has both provided medical care to these areas and has helped strengthen their health systems, applying best practices from around the world.
After a search that included nearly sixty applications, Child Family Health International has announced Garrett Wilkinson of Kansas State University and Eva Kisakye of Belmont University as the first recipients of this award.
Eva, a native of Uganda, is a 3rd-year pharmacy student in Nashville, TN. Garrett is an undergrad in Manhattan, KS, with plans to attend medical school after graduation.
Eva, who is participating in a program in her home country, states: "I hope to become well-versed in ways to increase healthcare access in resource-limited settings while addressing healthcare disparities and social determinants. Thanks again for giving me the opportunity to enhance my knowledge and clinical experience in public health while serving the people of Uganda."
Garrett explains: "I look forward to bringing the knowledge I will gain from CFHI into my advocacy at home. I am certain that my experiences through CFHI will prove significant throughout the rest of my education and career."
The selection of Garrett and Eva represents the end of a nationwide search for two future leaders in global health and a new step forward in Child Family Health International's passion for training individuals in a setting that establishes industry standards in ethics and patient safety. As CFHI Executive Director, Dr. Jessica Evert, exclaims: "Dr. Hall is a fearless advocate for the prominent position of young people in global health education, research, and practice. We are honored to support Dr. Hall's vision and expand his impacts."
Child Family Health International offers Global Health Scholarships year-round at www.cfhi.org/scholarships.
###
Child Family Health International (CFHI) provides community-based Global Health Education Programs for students and institutions. Our unique model fosters reciprocal partnerships and empowerment in local communities, transforming perspectives about self, healing and global citizenship.
CFHI is an NGO in Special Consultative Status with the ECOSOC of the United Nations.
Source: Child Family Health International