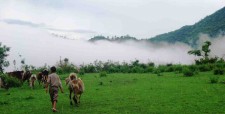 Child Family Health International, a San Francisco-based NGO in special consultative status with the UN ECOSOC, is launching an initiative encompassing several of its Global Health Immersion Programs
San Francisco, California, April 20, 2017 (Newswire.com) - Human health has improved tremendously in recent decades thanks to technological improvements and the use of planetary resources. Examples include an increase in life expectancy, reduced poverty, and reductions in maternal and infant mortality. But this progress has been accompanied by environmental changes that jeopardize the health of humans, animals, and environments on an unprecedented scale.
The concept of Planetary Health, recently formalized through the launch of a new journal, The Lancet Planetary Health, is a field of study and practice that looks at the effects of environmental change on human health as well as the human systems (political, economic, social) that govern these effects. One Health is a concept that recognizes human, animal and environmental health as interconnected.
This year, in recognition of Earth Day, Child Family Health International is launching a Planetary Health/One Health initiative to highlight these themes in several of its nearly 40 programs in Africa, Asia, and Latin America.  The diversity of the CFHI Global Health programs offers students and faculty the possibility to further explore these interdisciplinary approaches.
CFHI Director of Programs Robin Young explains, "We are excited by this area of growth for CFHI, as we are always exploring new ways to deliver global health education with industry leading standards in ethics and patient safety.  Planetary and One Health initiatives are a natural next step in this process, as our partners have been organically building these concepts into our programs for a number of years. It is important for us to pursue policies that reflect that all health is interconnected."
Offerings include the "Community Medicine from Rainforest to Coast" program in Ecuador, where students gain exposure to rural and community medicine in both rural and urban settings, exploring chronic, acute, and infectious and tropical diseases. The program provides anthropological insight into indigenous communities by learning the unique worldview of the Shuar tribe and their uses for traditional medicinal plants combined with spiritual practices. In this program, students will learn from local experts about a wide range of environmental disciplines (botany, animal husbandry, forestry, entomology) and the sociocultural and political aspects of jungle preservation.  
In Sargur village outside Mysore, India, students learn from indigenous farming communities about holistic and integrative (Western biomedical and Ayurveda) approaches to health. Lifestyle and dietary changes have led to the increase of chronic diseases (such as hypertension, cancer, diabetes, and heart disease) in this region, and this program highlights opportunities to address these issues through integrative approaches. Students learn about these plant-based medicines grown on-site and the role of the cultural and spiritual practices and belief systems in healing and health.
In Kabale, Uganda, with CFHI's "Nutrition, Food Security, & Sustainable Agriculture" program, students learn about veterinary approaches developed in the Rabbit Breeding and Training Center in Kabale, exploring how proper care and hygiene for raising rabbits are the grassroots for integrated economic, social and health improvements. Students also learn about ground-breaking integrated approaches for improving food security and nutrition. From primary care clinic to rural communities, students observe and contribute to the implementation of practical solutions in health, farming and education and the positive impact of these programs on maternal and child health.
Explore CFHI's Planetary Health/One Health Initiative here: https://www.cfhi.org/cfhi-planetary-health-one-health-initiative​
About Child Family Health International
Founded in 1992, CFHI (http://www.cfhi.org) is a non-governmental organization (NGO) operating at the grassroots level to provide transformative global health education experiences and community empowerment in underserved communities around the world. CFHI offers 30+ Global Health Education Programs designed to broaden students' perspectives about global health - as well as a variety of community health initiatives and projects - in developing countries including Bolivia, Ecuador, India, Argentina, Mexico, Uganda, South Africa, Ghana, Tanzania, and the Philippines. More than 8,000 students have participated in CFHI programs to date. CFHI has been granted Special Consultative Status with the Economic and Social Council of the United Nations (ECOSOC).
Source: Child Family Health International
Share: