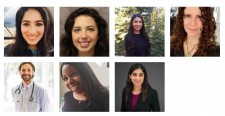 Representing a wide range of fields and disciplines, the new members of the Alumni Advisory Board will advance CFHI's mission and serve as the voice of the global health alumni community
OAKLAND, Calif., November 26, 2019 (Newswire.com) - ​​​​​​​Child Family Health International (CFHI), the leading nonprofit organization providing community-based Global Health Education Programs for hundreds of students and universities, today announced new members of its Alumni Advisory Board (AAB).
Members of the Alumni Advisory Board come from diverse personal and professional backgrounds and represent the uniqueness of the CFHI community. Together, they make up an accomplished group of global health leaders committed to advancing CFHI's mission and supporting underserved communities both at home and abroad.
The 2020 Alumni Advisory Board members are:
"I've had a long journey with CFHI. From a student-learner back in 2005 to an in-country liaison for the Oaxaca program to a CFHI grant recipient to a member of the first alumni board in 2015. CFHI has shaped me in several ways and for that, I'm very humbled and grateful," said Dr. Kirkilas, AAB board chair.
"This newly convened Alumni Advisory Board represents an impressive and highly committed group of leaders from a wide variety of fields and disciplines, committed to local and global health in a multitude of ways. Through their leadership, we are confident that CFHI will engage more deeply with our network of over 12,000 alumni and help many more students 'let the world change them' in the years to come," said Robin Young, MBA, Managing Director of CFHI.
As the leadership arm for the alumni community, the AAB will organize alumni gatherings, keep alumni engaged in global health happenings, and provide the alumni voice to CFHI's organization. They will be integral to fundraising for scholarships for incoming CFHI students.
For more information or to contact the CFHI Alumni Advisory Board, visit https://www.cfhi.org/cfhi-alumni-advisory-board-aab.
Source: Child Family Health International
Share: