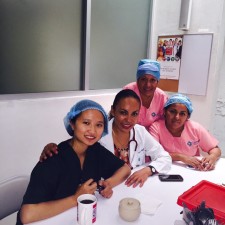 OAKLAND, Calif., June 18, 2019 (Newswire.com) - Students with strong local language skills have more meaningful and impactful experiences during global health experiences. Those same students go on to be better healthcare providers and workers. As the ability to speak Spanish increasingly becomes an essential tool in the tool belt of any doctor, nurse, physician's assistant, public health or community health worker, students are increasingly requesting the opportunity to develop strong Spanish-language skills during their global health education experiences.
In response to this need, Global Health education leader Child Family Health International is proud to announce a partnership with Canopy, a leading provider of online Medical Spanish courses. CFHI students will have special access to Canopy courses, better preparing them for their global health programs in Latin America and beyond.
"We're excited to roll out this collaboration and offer CFHI programs to Canopy alumni while supporting global health program-seekers with quality Spanish language courses," says CFHI's Managing Director, Robin Young. "This partnership represents CFHI's values in action, supporting students to deepen their commitment to intercultural and language skills."
Canopy envisions a world without communication barriers in healthcare. Through their online medical Spanish course, Canopy works to improve the quality of care for Spanish‐speaking patients and to support the healthcare professionals who serve them. In recent years, Canopy has grown rapidly to support one-third of medical schools in the U.S. with their medical Spanish offering.
Through the establishment of this partnership, CFHI and Canopy will collaborate to empower aspiring healthcare practitioners to succeed in various global health education and immersion programs in Latin America. Canopy alumni can enroll in CFHI's programs at a discount and with no application fees, and CFHI enrolled participants can access discounted Canopy courses.
For more information, contact info@cfhi.org.
Source: Child Family Health International
Share: