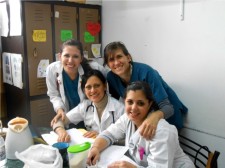 OAKLAND, Calif., April 8, 2019 (Newswire.com) - Child Family Health International (CFHI), a nonprofit organization offering community-based global health programs in 11 countries for students and universities, has combined forces across sectors to spotlight the importance of preparing for global service and learning before setting foot in another country.
As leaders in ethical engagement, CFHI recognizes that improving the preparation of participants is an important step in practicing global health ethically and sustainably. According to CFHI Executive Director Dr. Jessica Evert, "Every year, thousands of doctors, nurses, students and other volunteers set off for countries across the globe in a quest to improve health, a goal that requires substantial preparation and information to guide their quest. We are making sure they are equipped."
To enrich the learning of students who utilize CFHI's Global Health Education Programs from over 200 universities, CFHI has partnered with Aperian Global, a corporate cross-cultural effectiveness leader. Moving beyond static documents, Aperian's online training platform is interactive, multi-media and features knowledge checks and assessment. CFHI Managing Director Robin Young observes, "We are taking our commitment to ethical, safe engagement between the world's richest and poorest inhabitants to the next level, ensuring students coming from the U.S. and other countries to less resourced settings are informed, respectful and cross-culturally astute. This is important with any global engagement, and particularly so in the health field where patient health and wellbeing are at stake."
A pilot of the new platform has yielded exciting feedback, as captured by one CFHI scholar: "I expect that [the global health program] will be a very enriching experience that will push me out of my comfort zone in some areas and enhance my strengths in others. My goals (since completing this pre-departure training) have changed because, at the beginning of this training, I did not realize that every action I take abroad matters. For the safety of those around me and myself, I must remain aware of what is okay and not okay."
In response to increasing recognition that, without adequate preparation, volunteers and students can perpetuate the harm to patients they are trying to eliminate, CFHI has also teamed up with Americares, a health-focused relief and development organization, to create pre-departure training for Americares' thousands of volunteers that participate in medical outreach trips. The training covers a diverse range of topics, giving Americares volunteers foundational knowledge in global health and development.
"We have partnered with Child Family Health International to develop a training course that will further the ability of medical volunteers to provide quality care for people in need around the world," said Americares Chief Medical Officer and Technical Unit Vice President Dr. Julie Varughese. Americares is the world's leading nonprofit provider of donated medicine and medical supplies, reaching more than 90 countries each year with life-changing health programs. This training course will support Americares volunteer medical teams in their trip preparation as they work with in-country partners to provide primary care services, perform surgeries, respond to emergencies and strengthen local health care capacity.
To learn more about these collaborations and resources, contact CFHI at info@cfhi.org.
Source: Child Family Health International
Share: